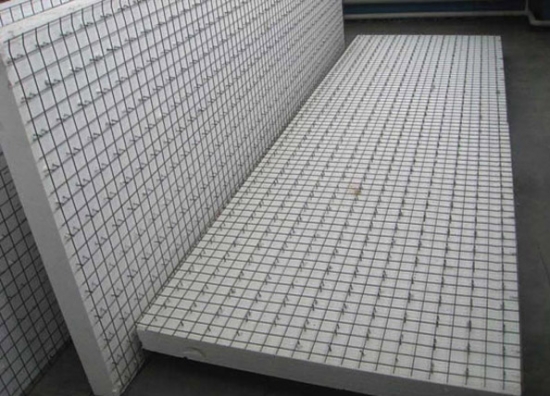 EPS 3D wall Panel
PRODUCT DESCRIPTION
As an EPS 3D panel machine manufactuer, we show following knowledge for a good understanding about EPS 3D panel before you order a machine .
EPS 3D wall panel(also named Reinforced EPS panel) Structure
It consists of an expanded polystyrene panel(usually called EPS panel) sandwiched between two pc of zinc coated welded reinforcing mesh of high tensile wire,diagonal wire and self-extinguishing EPS panel manufactured in factory and shotcrete is applied to the panel assembled at the construction site, which gives the bearing capacity of the structure.

The zinc coated welded mesh connected piercing polystyrene with truss of steel wire, welded to the welded mesh at an angle. It gives a rigidity spatial structure, and
simultaneously prevents polystyrene core shifting.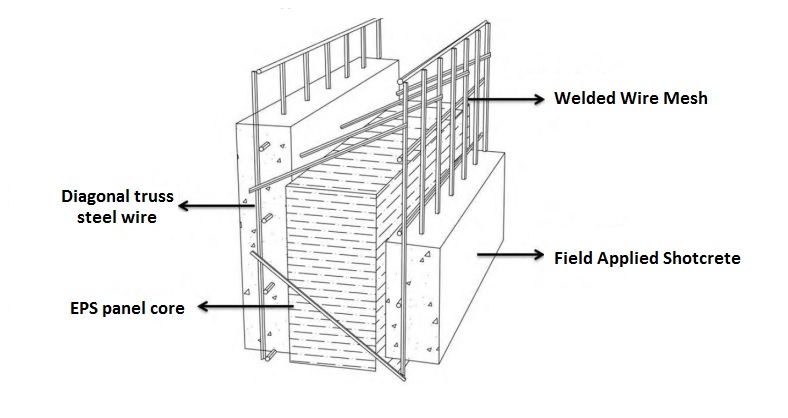 Technical Specifications about Reinforced EPS 3D panel
Raw material
1. Galvanized steel wire for both welded wire mesh and Connector diagonal wire
1) Min zinc coating should be of 60gm/m2
2) Mechanical characteristics
Tensile Strength (2.0mm diameter) :880N/mm2
Tensile Strength(2.5mm Diameter): 800N/mm2
Tensile Strength (3.0mm diameter): 700N/mm2
Elongation : >8%
3) Chemical characteristics
C :0.14-0.22%
Mn: 0.30-0.65%
Si: ≤0.30%
S: ≤0.050
P: ≤0.045
2. Galvanized welded wire mesh
For 3m x 1.2m ( L x W) x (50 x50mm) , the length of two diagonal lines tolerance should be ≤3mm
Welding point strength: ≥1000N/point
3. Expanded Polystyrene Panel---Self-extinguishing type.Density ranging 15kg/m3 to 20kg/m3.
EPS 3D wall panel common size
Product name

Items

Specifications

Welded mesh

Wire diameter

2.0-3.0mm

opening

50*50mm or 50*100mm

width

1250mm or 1200mm

length

2400-6000mm

EPS panel

Density

15-20kg/m3

Thickness

60-200mm

width

1200mm

length

Same with the length welded mesh

Gap

Distance between EPS

and welded mesh

10mm

Truss wire

Wire dia

3.0mm

Joint type

Lap joint
Other special size and type EPS 3D panel machine can be customized according to customer's requirement. Do you want to buy EPS 3D Panel Production line? Get quotation!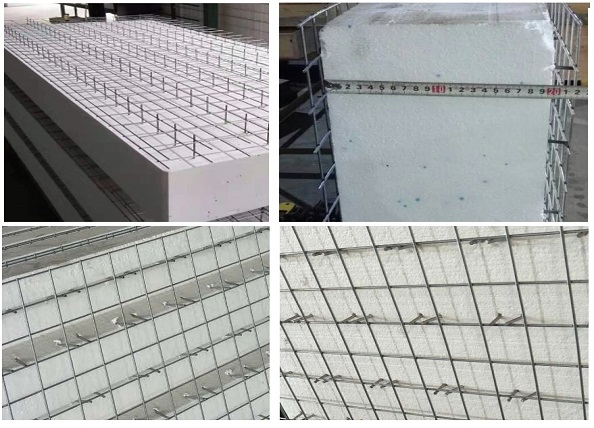 How do I caculate EVG 3D panel(steel wire mesh EPS 3D panel) raw material cost?
Specification

Raw material/m2

Wire dia:2.0mm

Opening:50*50mm

Welded wire mesh

Gal. Wire 1.0kg/m2

Double side mesh

:2.0kg/m2

EPS thickness 100mm

Density :15kg/m3

1.5kg EPS raw material

Diagonal wire

2.5mm

Approx 0.7kg/m2
Use the above quantity multiply by the unit price, we can get the raw material cost.
Other specifications and know more about the cost analysis , pls contact us.
Know more about EPS 3D panel
EPS 3D panel panel advantage and limitation,reinforced EPS 3D panel building
EPS block (Panel) Production Line and production process
3D Panel production line and production process
We should use which tools for 3D Panel building sytem
EPS 3D wire mesh panel machine working video
Quality galvanized steel wire is a main factor for producing good quality EPS 3D wire welding panel.We supply turn key project,have our own galvanized wire and its quality is guaranteed.
Straighten steel wire guarantee the flatness of the welded mesh, so that no crack of the 3D welded wire mesh wall panel.
So a good steel wire straighten & cutting machine is necessary!
As a professional resistance welding specialist, our engineer can design and guarantee various kinds of welded mesh is flatten and good welding quality!
Of course, the most important thing is a quality 3D panel machine! It can save space, save labor, reduce the failure welding rate, guarantee top quality 3D panel producing!
EPS 3D wire panel machine is our most featured products. If you want to set up an EPS 3D wire mesh wall panel factory , if you want to source 3D wire wall panel machine factory from China, if you want to know the estimate investment for the full EPS 3D panel production line, pls write to us sales@hbhscn.com . We shall support with more than 10 years experiences! Our rich experience is the guarantee of your success!

About 3D wire mesh panel, and 3D mesh panel machine, pls refer the following link:
3D panel production line, pls refer http://www.hbhscn.com/3d-panel-production-line_p39.html
Other types EPS 3D wire panel https://www.hbhscn.com/eps-3d-panel_n317
3D panel fence, pls refer
http://www.hbhscn.com/3d-panel-fence_p43.html
3D panel house, pls refer
http://www.hbhscn.com/3d-panel-house_p45.html
Zig zag type 3D panels, pls refer
http://www.hbhscn.com/zig-zag-type-eps-3d-panels_p44.html
Welded mesh machine, pls refer
http://www.hbhscn.com/welded-mesh-machine_p53.html
Vertical type 3D panel machine, pls refer
http://www.hbhscn.com/vertical-3d-panel-machine_p54.html
Horizontal type 3D panel machine , pls refer
http://www.hbhscn.com/horizontal-3d-panel-machine_p55.html
Raw material and tools about 3D panel house, pls refer
http://www.hbhscn.com/raw-material-tools-used-in-3d-panel-building_p58.html
EPS 3D panel machine manufacture workshop, pls refer
http://www.hbhscn.com/eps-3d-panel-machine-icf-blcok-machine-workshop_nc3
EPS 3D panel machine container loading pictures, pls refer
http://www.hbhscn.com/container-loading-pictures_nc7