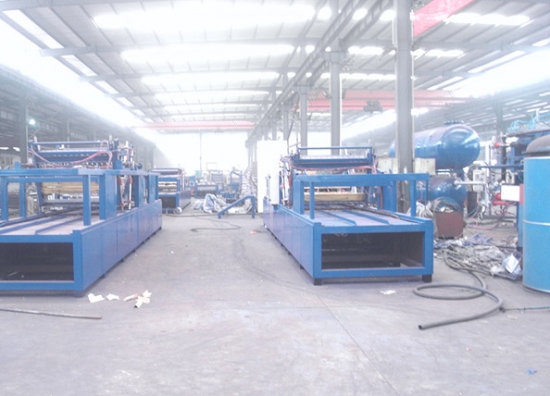 Horizontal 3D Panel Machine
PRODUCT DESCRIPTION
Horizontal 3D Panel Machine
3D Panel machine,
also named tridipanel machine, 3D wire mesh panel machine
Feature:
1.Automatic wires feeding system,automatic wires cutting and automatice wire welding system to the less the labor.
2. Key parts use world famous brand, guarantee the long life using.
3. PLC, touch screen, specially designed chain system;
4. High productivity, sparse inserting panels can reach 700-800 SQM per 8 hours.
5. It can produce two types of 3D Panels (sparse 3D panel and dense 3D panel)
6. Low lack welding rate, even welding strength, excellent quality and low production cost.
7. Design special machines by requirements
Main Parameters:
Input Power Supply

AC380V 50HZ 75KVA

Air Source Equipment

3m3/min 0.6Mpa

Standard size

Wire Mesh Structure

50mmX50mm

Welded Mesh Wire Diameter

2.0-3.0mm

Inserting Wire Diameter

2.5-3.5mm

Thickness of EPS core

50mm-100mm

Structure of Inserting Wire

sparse, dense inserting
single, double sides mesh

Distance between EPS Core and Mesh

10mm

Length

3000mm-6000mm

Width

1220mm

Lack welding rate

<=3%< p="">

Measurement of the machine

Length

13500mm

Width

1800mm

Height

1700mm

Weight

4000kg
To meet some customer's requirement, we have developed new type 3D panel machine, it can make the max EPS thickness to 200mm.
About 3D wire mesh panel, and 3D mesh panel machine, pls refer the following link:
3D panel production line , pls refer http://www.hbhscn.com/3d-panel-production-line_p39.html
3D panel fence, pls refer http://www.hbhscn.com/3d-panel-fence_p43.html
3D panel house, pls refer http://www.hbhscn.com/3d-panel-house_p45.html
Zig zag type 3D panels, pls refer http://www.hbhscn.com/zig-zag-type-eps-3d-panels_p44.html
Welded mesh machine, pls refer http://www.hbhscn.com/welded-mesh-machine_p53.html
Vertical type 3D panel machine, pls refer http://www.hbhscn.com/vertical-3d-panel-machine_p54.html
Raw material and tools about 3D panel house, pls refer http://www.hbhscn.com/raw-material-tools-used-in-3d-panel-building_p58.html
EPS 3D panel machine manufacture workshop, pls refer http://www.hbhscn.com/workshop/eps-3d-panel-machine-icf-blcok-machine-workshop_nc3
EPS 3D panel machine container loading pictures, pls refer http://www.hbhscn.com/container-loading-pictures_nc7
3D wire mesh specification, kindly refer http://www.hbhscn.com/3d-panel_p41.html
Video
200mm horizontal type 3D panel machine working video