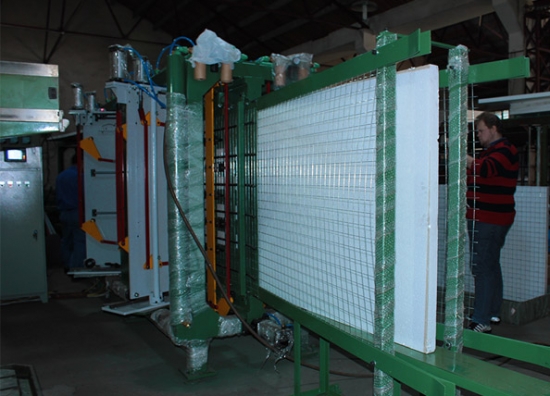 Vertical 3D Panel Machine
PRODUCT DESCRIPTION
3D panel forming machine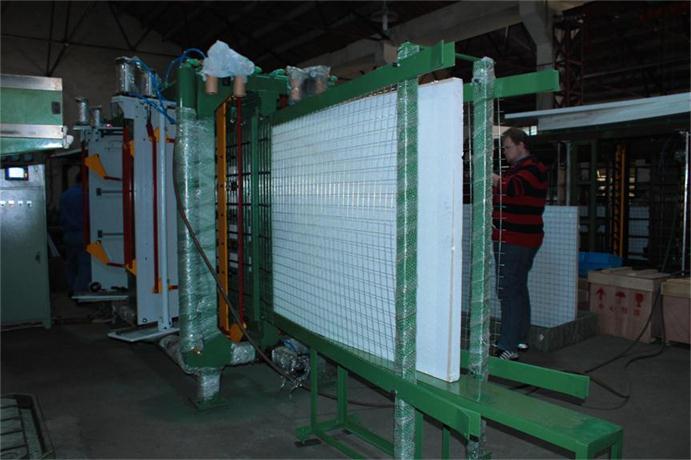 Usual size for EPS 3D PANEL (FOR WALL)
Product name

Items

Specifications

Welded mesh

Wire diameter

2.0-3.0mm

opening

50*50mm or 50*100mm

width

1250mm

length

2400-6000mm

EPS panel

Density

15-20kg/m3

Thickness

50mm,80mm,100mm.

width

1200mm

length

Same with the length welded mesh

Gap

Distance between EPS

and welded mesh

10mm

Truss wire

Wire dia

3.0mm

Joint type

Lap joint
Usual size for EPS 3D PANEL (FOR SLAB)
Product name

Items

Specifications

Welded mesh

Wire diameter

2.0-3.0mm

opening

50*50mm

width

1200mm

length

2400-6000mm

EPS panel

Density

15-20kg/m3

Thickness

150mm,200mm

width

1200mm

length

Same with the length welded mesh

Gap

Distance between EPS

and welded mesh

25mm

Truss wire

Wire dia

3.0mm

Joint type

Joint by slice mesh

Placement reinforcement & concrete pour should be done.
FAQ
Can you supply horizontal type 3D panel machine.
Yes, we can supply. But we recommend vertical 3D panel machine.
What is the advantage for vertical 3D panel machine?
Please refer:http://www.hbhscn.com/advantage-for-the-vertical-3d-panel-machine_n15
How can I get an effective offer?
Firstly pls confirm if the 3D panel size that you required is as our standard sizes, if not, pls fill in the following sheet by details one by one.
Company information

Contact Person




Company Name & address




Tel No.




Email:




Other contact information




Product information

Kindly check our 3D panel. If your requirement is not our standard size, pls confirm the follow questions.




EPS

Panel

Density(kg/m3)







Thickness(mm)







Length (mm)







Width(mm)




Welded mesh







Wire dia(mm)







Mesh opening(mm)







Max length(mm)







Width(mm)




Diagonal wire







Wire dia(mm)




Distance between EPS to inner mesh(mm)




Production capacity per 8 hours that you require




Other questions for your side



About 3D wire mesh panel, and 3D mesh panel machine, pls refer the following link:
3D panel production line, pls refer http://www.hbhscn.com/3d-panel-production-line_p39.html
3D panel fence, pls refer http://www.hbhscn.com/3d-panel-fence_p43.html
3D panel house, pls refer http://www.hbhscn.com/3d-panel-house_p45.html
Zig zag type 3D panels, pls refer http://www.hbhscn.com/zig-zag-type-eps-3d-panels_p44.html
Welded mesh machine, pls refer http://www.hbhscn.com/welded-mesh-machine_p53.html
Horizontal type 3D panel machine , pls refer http://www.hbhscn.com/horizontal-3d-panel-machine_p55.html
Raw material and tools about 3D panel house, pls refer http://www.hbhscn.com/raw-material-tools-used-in-3d-panel-building_p58.html
EPS 3D panel machine manufacture workshop, pls referhttp://www.hbhscn.com/eps-3d-panel-machine-icf-blcok-machine-workshop_nc3
EPS 3D panel machine container loading pictures, pls refer http://www.hbhscn.com/container-loading-pictures_nc7
3D wire mesh specification, kindly refer http;//www.hbhscn.com/3d-panel_p41.html
Video
Vertical 3D wire mesh panel working video ,kindly refer https://www.youtube.com/watch?v=CThu264rMBY
Regarding 3D panels, 3D panel house and 3D panel machine, kindly refer https://www.youtube.com/watch?v=uiRfMaKeOM4