Mulfunction and Solution of the Spot Welding Machine
2017-01-04
Spot welding machine is an auxiliary machine of 3D wire mesh panel production line.It is used for repairing the failure welding point of 3D panels or welded mesh.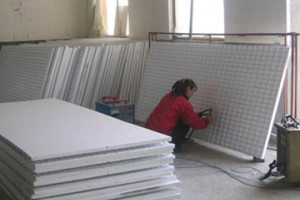 The mulfunction and soluction is as follows:
Fault




Reason




Solution




Machine doesn't work




1.Laking phase




2.Protector tube is broken




3.Wire fault.




4.Circuit Board failure.




1.Check the power source




2.change the protector tube




3.Remove the welding copper wire,welding manual control swith,

if the welding indicator light is on, the the machine is in normal status.

4.Check and repaid the circuit board.




Welding current is not stable.




Wire connection is not good.




Check the wire connection.



If you have any questions when using spot welding machine, welcome to write email to sales@hbhscn.com, we will be more than pleased to help you.
PreviousEPS/Concrete Sandwich panel production way
NextWhy use diagonal wire pre-cut system in vertical 3D panel machine?