Domestic Sale Situation Of Cold Roll Forming Steel
2016-05-16
According to discussions with foreign clients, we get the overview of domestic sale situation for cold roll forming steel. And we'll talk about our perspectives to different kinds of cold roll forming steel.
This is the photo of our profile steel machine to Africa.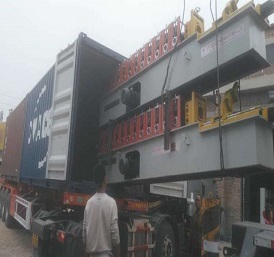 There are China's main existing cold roll forming steel recently as follows:
Cold roll forming rectangular tube for structure, cold roll forming steel for coaches, forming steel for rolling doors and steel windows, welded pipe for low pressure fluid, general opening cold roll forming steel, cold roll forming steel for construction steel structure and various cross-section cold roll profiled steel.
Above of these kinds of steel are widely used in civil industries and else all sorts of industries such as construction, machinery, nuclear power, auto, railway, agricultural machinery, chemical industry, petrochemical industry, refrigeration, food, textile, healthcare, supermarket and containers. Need of emerging industries, especially, is increasing rapidly almost day by day. So far quantity of steels produced in China, including stainless steel, galvanized sheet, high strength and super high low alloy cold roll forming steel, are few in number.
Welcome to contact us by sales@hbhscn.com for cold roll forming machine.
PreviousWhy Choose to Use Lightweight Wall Panel in Your Project?
NextBrief Introduction of Color Steel Sandwich Panel and EPS Foam Sandwich Panel