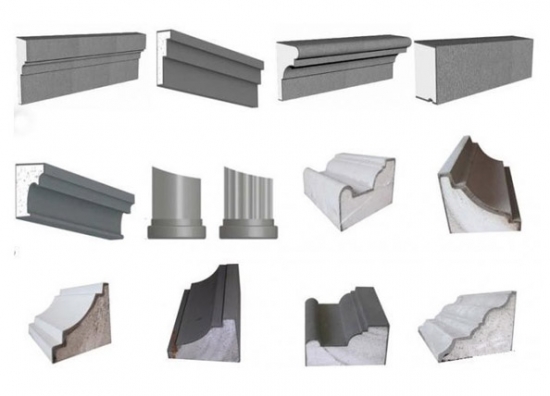 EPS Coating Machine
PRODUCT DESCRIPTION
Full automatic Linear EPS foam coating production line:
1. Dry mortar mixer (For mixing the cement, sand, HDPE ,Redispersible polymer powder,PP fiber ,wood fiber to make Polymer cement.)
2. Wet mortar mixer (After the polymer cement is finished, it will be conveyed to wet polymer cement mixer for mixing.)
3. Conveyor( convey the wet polymer concrete to the hopper of EPS foam cornice coating machine.)
4. Architectural EPS (Styrofoam) coating machine
5. EPS coating mold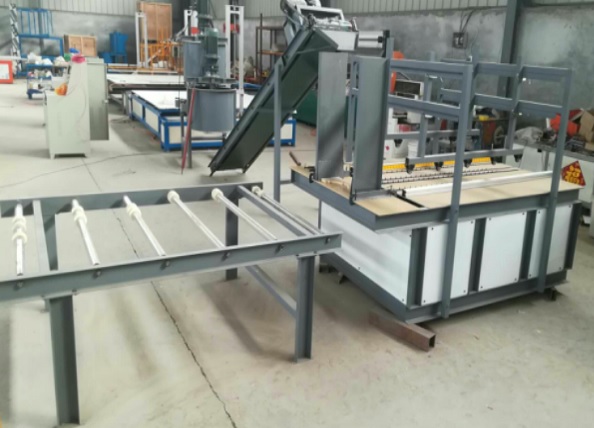 How does the EPS coating machine work?
Linear EPS coating machine is designed for coating EPS linear foam shapes.
1. we put the EPS piece on the table guide .
2. The the motor powers the pusher mechanism, which pushes the EPS foam shape through the " wet mortar box".
3. The EPS foam piece enters and exits the "wet mortar box" and the coating mold.The exit is bigger than the foam piece itself.The gap between the mold exit and the EPS shape determins the coating thickness. That creats an accurate and even coating .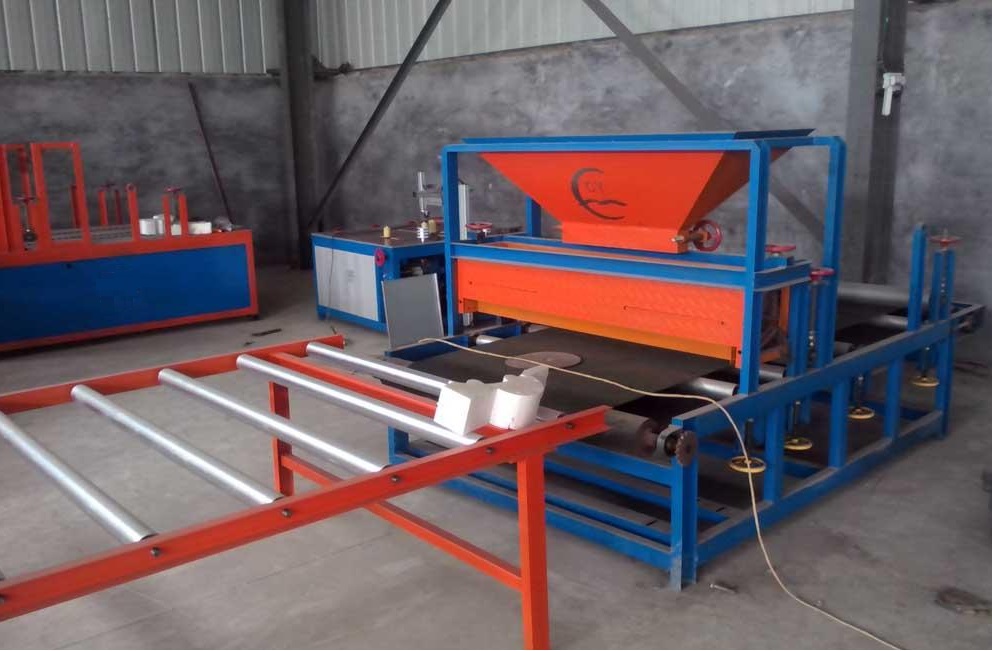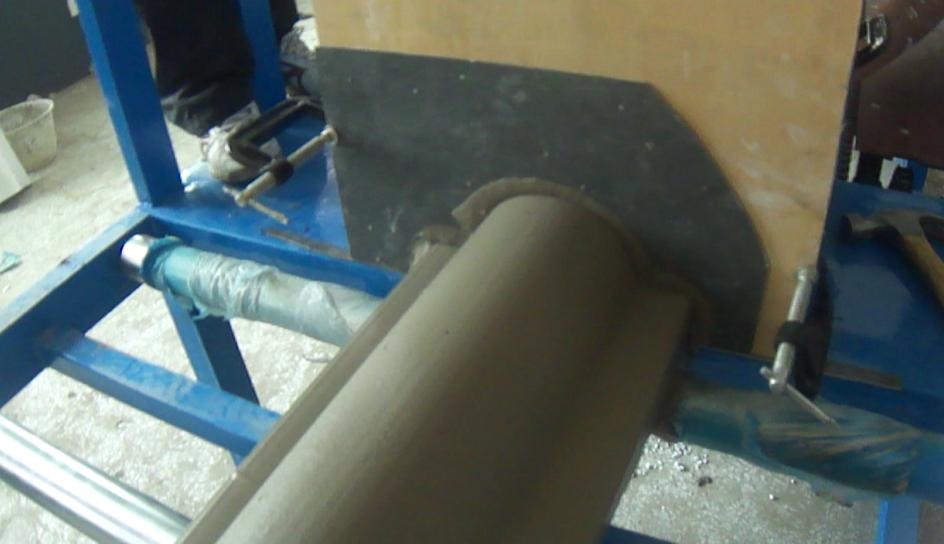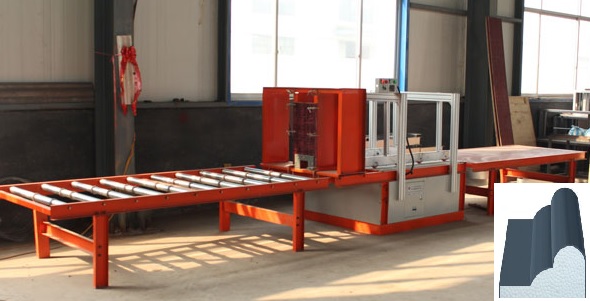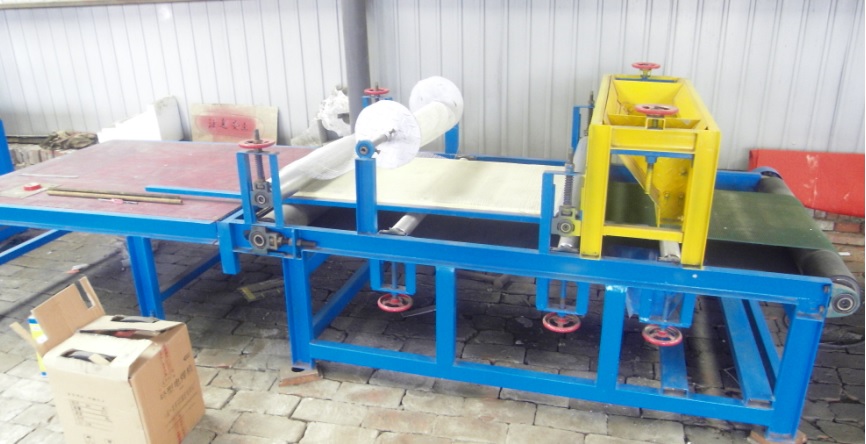 Main parameters
Item No.

Item

unit

1

Overall dimension

mm

3850*1400*1600( L X W XH)

2

speed

m/min

Can be adjusted,0-3m/min

3

Motor power

kw

1.5kw

4

Input power

v

380-440v

5

Max processing size

mm

1200*600

Motor:1440 RPM,speed down ratio:59,output speed:23RPM.

Drive sproket max speed :10791.6mm/min
Special size can be made according to customer's requirement.
Advantage of EPS (Polystyrene) coating machine
1. Small investment .
2. Save labor. One shift use 2-3 workers.
3. High efficiency . Coating speed is 0-3m/min .
4. One stop service support. We support you by one stop service, chemical additive supply, polymer concrete formula,machine supply and teach you how to use the machine.
5. On line support. If any problem in working progress, we can solve by online by wechat.
How to coat EPS cornice ?
Foam coating is very simple, it can be done as follows:
1. Firstly mix the cement, sand and some additives together.
2. Put a layer of self-automatic fiberglass mesh on the EPS panel or EPS decorative shape.
3. Input the mixer on the hopper .
4. start the machine to coating.
5. Usually for EPS shape coating, we use chain(with tooth) for transmit. For the panel, we use belt for transmit. Because if we use chain also for the panel, it will appear some small holes on one side of the EPS panels.
Customer's facroty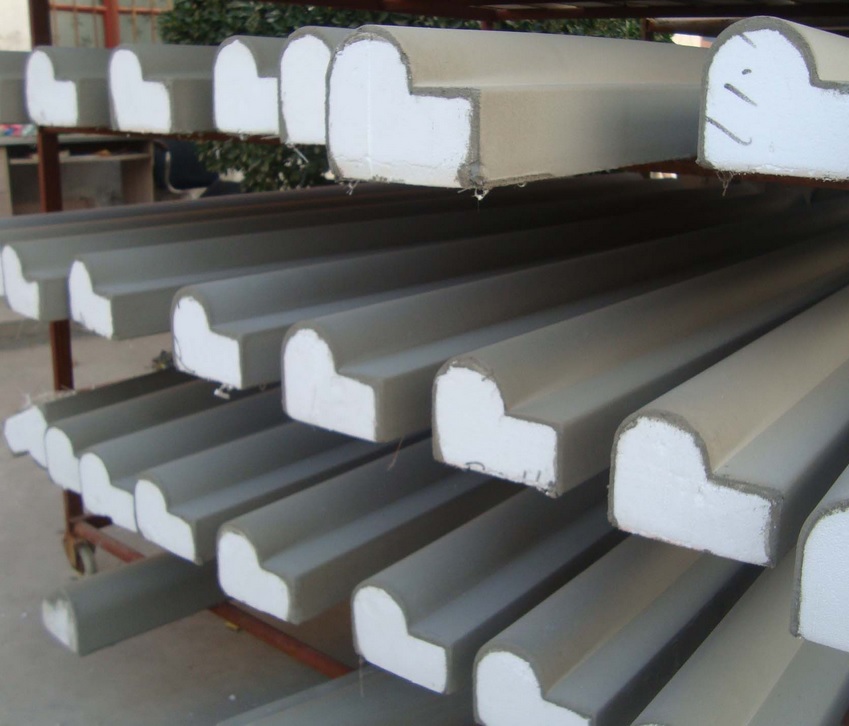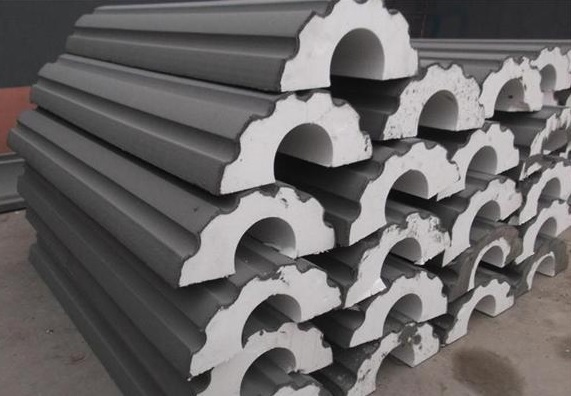 EPS shape application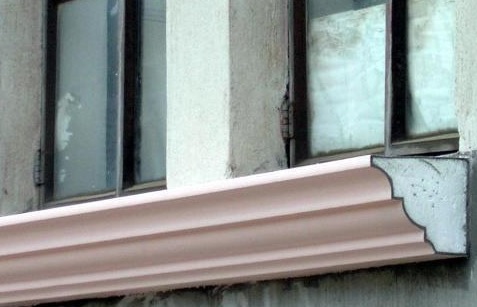 We have another type Double side EPS panel coating machine for producing EPS Cement sandwich panel /XPS Cement sandwich panel:

More details, pls browse our web Double side EPS foam panel coating machine.
About EPS machines, please refer the following link:
EPS panel production line, please refer http://www.hbhscn.com/full-eps-production-line_p32.html
Continual type EPS Pre-expander, please refer http://www.hbhscn.com/continual-type-eps-pre-expander_p29.html
Batch type EPS pre-expander, please refer http://www.hbhscn.com/batch-type-eps-pre-expander_p33.html
Air cooling type EPS block molding machine, please refer http://www.hbhscn.com/air-cooling-type-eps-block-modling-machine_p47.html
Vacuum type EPS block molding machine, please refer http://www.hbhscn.com/vacuum-type-eps-blocking-molding-machine_p48.html
Semi-Auto EPS block cutting machine , please refer http://www.hbhscn.com/semi-auto-eps-block-cutting-machine_p49.html
Automatic EPS block cutting machine , please refer http://www.hbhscn.com/automatic-eps-block-cutting-machine_p50.html
Hot wire CNC foam cutting machine, please refer http://www.hbhscn.com/eps-hot-wire-cnc-foam-cutter_p16.html
CNC thermocol cutting machine, please refer http://www.hbhscn.com/cnc-thermocol-cutting-machine_p14.html
5 axis CNC foam cutting machine, please refer http://www.hbhscn.com/5-axis-cnc-foam-cutter_p15.html
EPS circle cutting machine, please refer http://www.hbhscn.com/circle-arc-eps-cutting-machine_p19.html
EPS shape molding machine please refer http://www.hbhscn.com/icf-block-molding-machine_p69.html
EPS recycling system ,please refer http://www.hbhscn.com/eps-recycling-system_p35.html
EPS production line auxiliary system, steam boiler, steam tank, air compressor, air tank, please referhttp://www.hbhscn.com/auxiliary-equipment-for-the-full-eps-production-line_p38.html
EPS hot melting recycling machine, please refer http://www.hbhscn.com/eps-hot-melting-recycling-machine_p57.html
EPS 3D panel machine workshop, please refer http://www.hbhscn.com/eps-3d-panel-machine-icf-blcok-machine-workshop_nc3