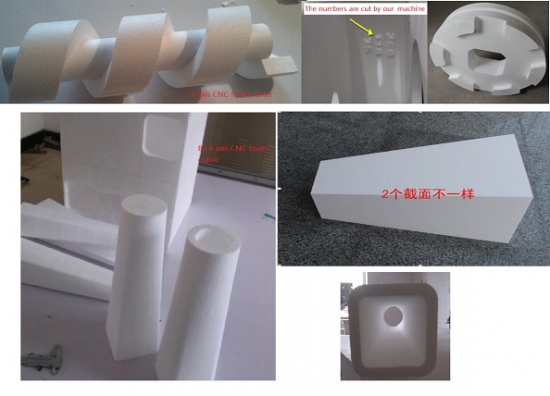 5 axis CNC foam cutter
PRODUCT DESCRIPTION
4 Axis CNC foam cutter and 5 Axis CNC foam cutter are used for cutting some special cone and spiral EPS shapes. It is widely used in decoration shape in the building , advertisement, lost foam mold etc.
It is one of our featured and patented products.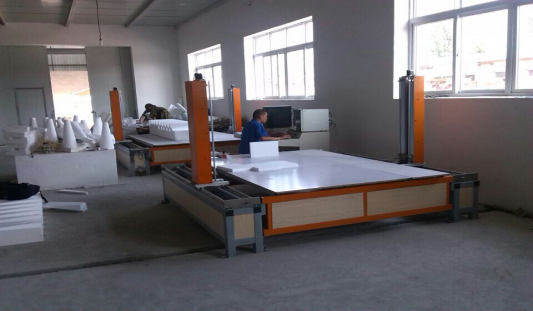 4 Axis CNC Foam Cutter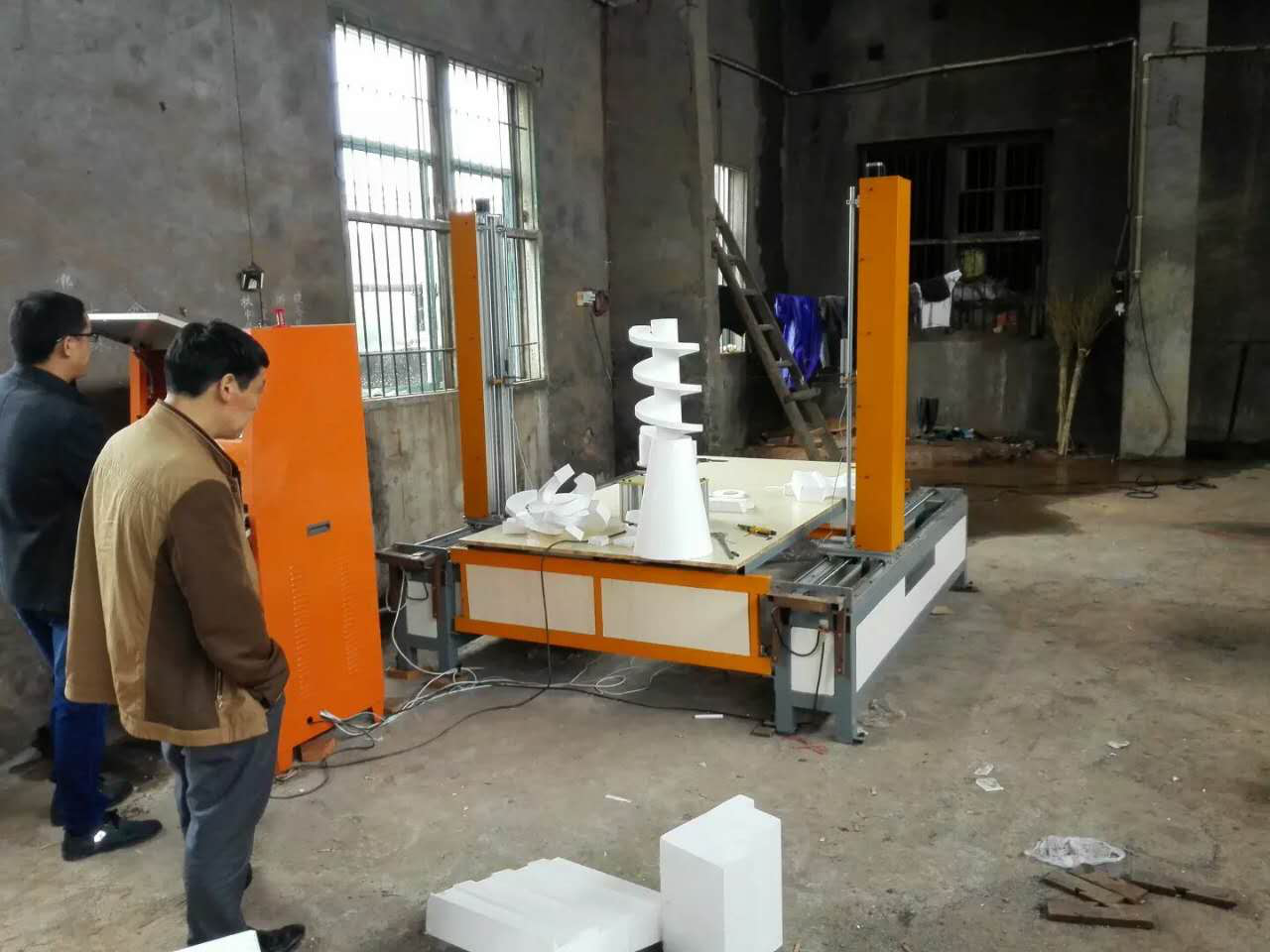 5 Axis CNC Foam Cutter
Main parameters:
Power:220V 50HZ 1PH
Cutting speed:300-500mm/min
Cutting precision:<1mm
Drawing software:CAD
EPS block size:3000x1200x1000mm
Machine dimension:3500X2200X2200mm
Machine feature
1. Our machine adopt Taiwan TBI ball screw gear and SBR guide rail. It has features of small resistance, high precision and longer service life. It is the best transmission part for machine tools. The mechanical precision is guaranteed within 0.05mm.(Not like other manufacturers' chain and synchronous belt) The main frame adopts high strength aluminum alloy and it can never rust.
1.Using Genuine control system. Analog display device support to display coordinates of the cutting path for easy viewing and can record the current coordinate position. It also support the function of pause, emergency stop and automatic reset. If any unexpected circumstances happens, it can stop cutting.(This point is very important during cutting. Because if hot wire is broken, you can emergency stop first then after changing a new wire, you can continue cutting, so as not to waste material.) The software supports the nest function and can automatic typesetting to save material.
3. Electric parts adopts independent drive and power switch. It has the features of high precision, and motor power is of large power and low noise.(Not like other manufacturers' integrated drive.)
4. China's originate CNC software, it support 2-5 axis' free conversion, and able to accurately cut the irregular surface and revolving solid.
5. Adopt stepless pressure technology to control the hot wire's temperature more accurately for different density foam block.
6. We own our Proprietary intellectual property rights and have patent certificate.
7. Our professional software for foam cutting design only needs to draw a drawing and input the maximum outer dimension, then the software can automatic do the layout and create a cutting procedures to reach the most saving material condition. It can saving programming time and improve the working efficiency.
About EPS machines, please refer the following link:
EPS panel production line, please refer http://www.hbhscn.com/full-eps-production-line_p32.html
Continual type EPS Pre-expander, please refer http://www.hbhscn.com/continual-type-eps-pre-expander_p29.html
Batch type EPS pre-expander, please refer http://www.hbhscn.com/batch-type-eps-pre-expander_p33.html
Air cooling type EPS block molding machine, please refer http://www.hbhscn.com/air-cooling-type-eps-block-modling-machine_p47.html
Vacuum type EPS block molding machine, please refer http://www.hbhscn.com/vacuum-type-eps-blocking-molding-machine_p48.html
Semi-Auto EPS block cutting machine , please refer http://www.hbhscn.com/semi-auto-eps-block-cutting-machine_p49.html
Automatic EPS block cutting machine , please refer http://www.hbhscn.com/automatic-eps-block-cutting-machine_p50.html
Hot wire CNC foam cutting machine, please refer http://www.hbhscn.com/eps-hot-wire-cnc-foam-cutter_p16.html
EPS foam coating machine, please refer http://www.hbhscn.com/eps-coating-machine_p18.html
CNC thermocol cutting machine, please refer http://www.hbhscn.com/cnc-thermocol-cutting-machine_p14.html
EPS circle cutting machine, please refer http://www.hbhscn.com/circle-arc-eps-cutting-machine_p19.html
EPS shape molding machine please refer http://www.hbhscn.com/icf-block-molding-machine_p69.html
EPS recycling system ,please refer http://www.hbhscn.com/eps-recycling-system_p35.html
EPS production line auxiliary system, steam boiler, steam tank, air compressor, air tank, please referhttp://www.hbhscn.com/auxiliary-equipment-for-the-full-eps-production-line_p38.html
EPS hot melting recycling machine, please refer http://www.hbhscn.com/eps-hot-melting-recycling-machine_p57.html
EPS 3D panel machine workshop, please refer http://www.hbhscn.com/eps-3d-panel-machine-icf-blcok-machine-workshop_nc3
Video