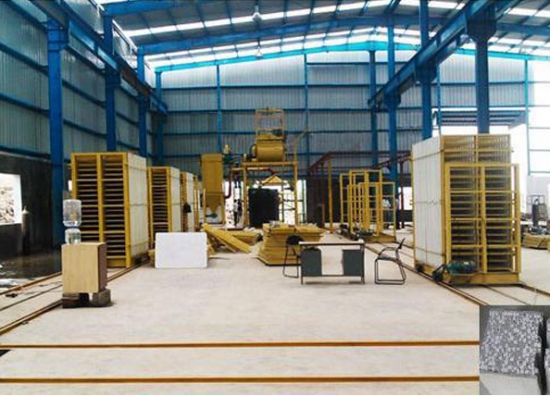 EPS Cement Sandwich Panel Production Line
PRODUCT DESCRIPTION
EPS Cement sandwich panel production line
EPS cement sandwich panel production line consist of mixing system, EPS pre-expanding system, Cement micro-expanding system, automatic feeding system, core material mixing system, pouring system, mold forming carrier, molding circulation system, splitting system from mold.
The production capacity mainly depending on the quantity of the mould.
EPS cement sandwich panel production line consist of the following machines.
No.
Product Name
Type
Use
Qty
1
Twin shaft mixer
JDC500
JS500
JS750
JS1000

Mixing different raw material ,
choose Model No. according to
production capacity requirement.
1set
2
molding vehicle
Overall dimension:4100*1800*3100
Motor:3KW
Rail distance:130M

Sandwich panel forming molding.
The mold qty should be
according to output requirement.
12set
3.
EPS pre-expanding machine with bed dryer
Model No.HS-960
Making EPS beads
1set
4
Steam Boiler and Steam tank

Electric heating type,oil or natural
gas as raw fuel type.
Support steam for
EPS pre-expanding machine.
1set
5
Cement Foaming machine
Overall Dimension:
2800*1200*1500
Foaming the cement,reducing the weight
1set
6
Handcart


Transport the raw material
2set
7
Water pump



Mixing the water.
2set
8
Hose pump


Transport the mixed-material
1set




Max flow rate:32,200 L/h
Flow rate:6.7L/rotation
Max pressure for the outlet:16ba
Inner dia for the hoseof pump:
Φ65mm
Lubrication oil:20L

to the automatic molding
vechile for forming


9
Air compressor


Spray release agent
1set
10
Sandwich-panel disssembling machine


After forming,
discharge the sandwich-panel
from the machine


11
Liquid type Electric measure






12

Electric measure for powder-type material,
hopper for measurement






13

Installing machine tools




1set
14
Forklift



Loading panel, transport raw material.

1-2se
FAQ
1.What is the raw material for EPS/Calcium Silicate sandwich panel?
1)Main material: Calcium Silicate board, cement, EPS beads.
2)425# cement:approx USD52/ton
3)EPS grain :USD2.6/KG(new material); USD1.2/KG(recycling material)
4)Calcium Silicate board: APPROX USD4/PC for 1.22 * 2.44 * 5mm.
The above is just for your reference, should be depending of the price of your local.

2.What is the profit for this kind EPS Grain and Calcium Silicate board sandwich panel?
According to China market, the production cost is approx USD6.35/M2,and market price is USD12.5/M2(For 90mm Thickness)

3.How much time does it take for pouring one complete mould machine?
Approx 5 mins or so for one set mold machine.

4.Do we need vibrating after pouring?
According to our experience, we don't suggest vibrating.
Because after vibrating, it will not uniform for the density. And vibrating is not good for the calcium silicate board.

5.How do we ensure that the slurry is well settled in the vertical moulding machine as there is no vibrator being used?
Pouring of concrete, it uses pump to input gradually, the core is voidless,no empty.

6.How long will it take from the pouring to the demolding?
It depends on the local temperature. For some hot place, it is 6-8hours/cycle;for some cold places, it will require 12 hours/cycle.

7.How do you open the mould after curing?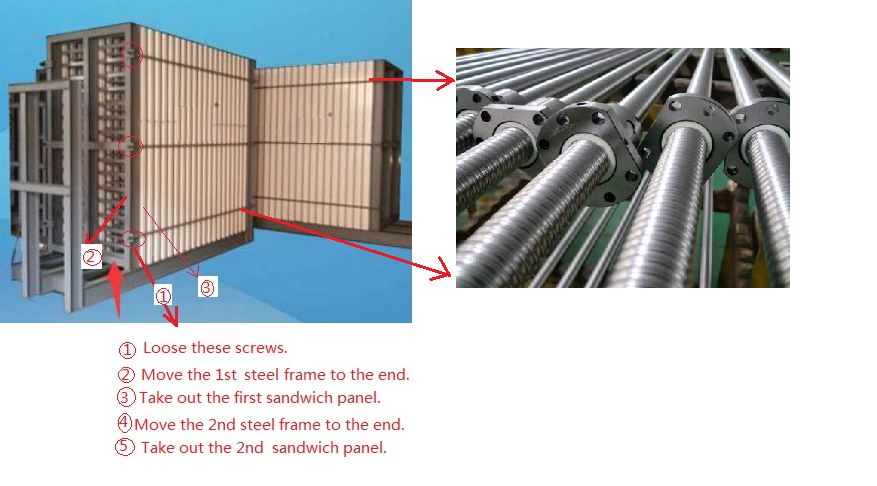 8.How much is the curing time for the panels?
For the curing time, it usually takes one week after demolding from the mold machine.

9.How do you ensure that the calcium silicate board sticks properly to the concrete .Also as it gets wet , how its strength is ensured?
1).In the mortar ,we put not only cement and EPS granular, there are also some additive,like consturcion glue powder and HPMC.
The funtion of glue powder it is to add the viscosity of the mortar. The function of the HPMC is for add the strength of the panel.
2)Cement is silicate cement , and the calcium silicate board is also belong to silicate.
3)So the calcium silicate board is easily stick properly to the concrete.
10.How can I get an effective price?
Tell us the specifications and the output required.
11. You provide which service for this project?
Raw material selection and formular
Workshop layout
Production line proposal
Installing machine and training workers
Guiding the production
Response in time for any problem
Sample house
Concrete block wall panel system, please refer the following link:
Light weight partition wall panel machine, please refer http://www.hbhscn.com/light-weight-partition-wall-panel-machine_p71.html
Concrete block machine, paving brick machine, please refer http://www.hbhscn.com/concrete-block-machines_p74.html
Ligth weight wall panel introduction , please refer http://www.hbhscn.com/light-weight-wall-panel_p72.html
EPS concrete sandwich panel introduction , please refer http://www.hbhscn.com/eps-concrete-sandwich-wall-panel_p75.html
Concrete block introduction , please refer http://www.hbhscn.com/concrete-block_p73.html
Video :