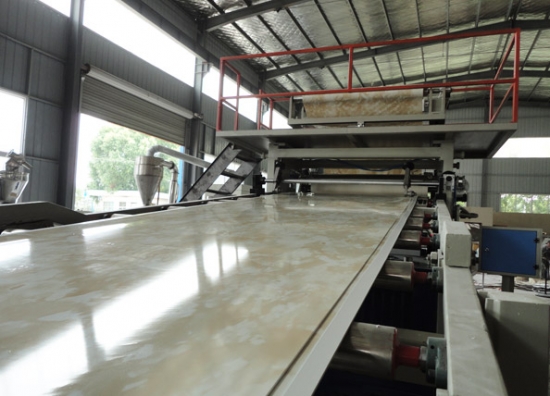 PVC Imination Marble Sheet Production Line
PRODUCT DESCRIPTION
1.PVC imitation marble sheet Process flow:
Mixer→Spiral loader→SJSZ80 double-screw extruder→Mould→Three-roller calender(online laminating)→Cooling group rollers→Hual off→Transversal cutter→Edge cutter→Conveyor→UV treatment.
1. Full production line include
1). Main machine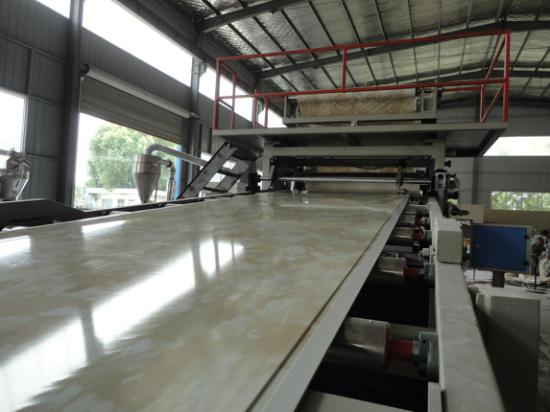 Main parameters:
A. Screw
Material: 38CrMoAla, Nitrogen treatment, thickness: 0.4-0.7mm
-Circulating oil cooling for screw core.
-Max. rotational speed: 34.7 rpm
-One set of pump for the cooling.power:3KW

B.Barrel
-Material: 38CrMoAla Nitrogen treatment
-Heating zone: 5 zones
-Heating mode: casting Al electric heating
-Heating power: 20kw
-Cooling mode:
wind machine cooling, 0.25KW×4 PCS
-Vacuum exhaust unit: 1.5KW
- oil circulation system, The exchange media is high-temperature heat-conducting oil, Heating Power: 6KW

C. Main motor
-Motor: AC 55KW, Inverter Controlling
D.Gear Box
-Material: 20CrMoTi, hard gear face
-Equipped with flow water cooling unit
-Gear box consist of speed reducer
-High torque and long life.
-Oil recycled lubricate system

2)Auxiliary equipment
Name Quantity
SRL-Z type of hot/cool mixer 1set
Crusher 1set
Miller 1set
Air compressor 1set
3)After producing this board,if you use UV machine,it would make the board much harder and brighter.
3.About PVC imination marble sheet

Raw material: PVC resin, calcium and other nontoxic additives.
Surface material :UV
Finished product:
Size: 1220mm*2440mm
Thickness:2mm-5mm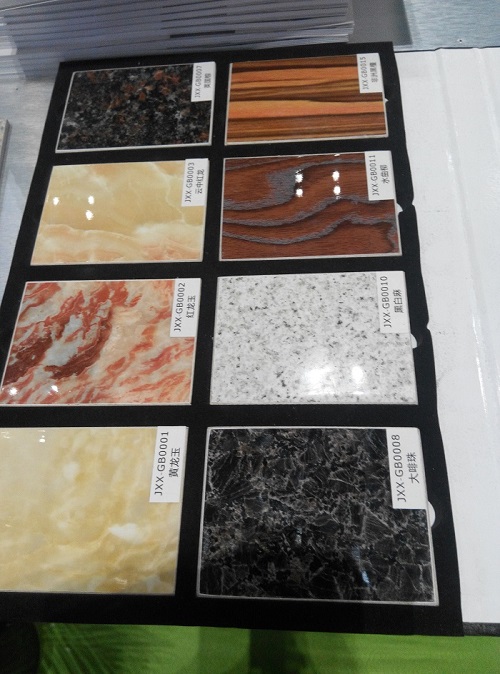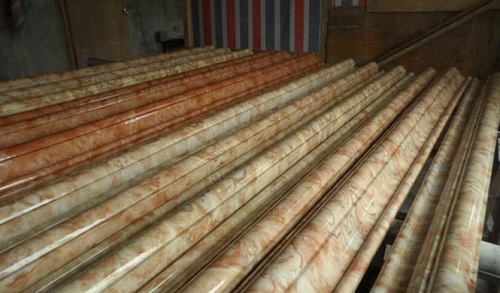 Advantage: Water proof,moisture proof,fire proof,lightweight and strong,Environment-friendly material,Surface glossy and easy to clean and so on.
Usage:The ideal substitute of natural marble, are widely used in decoration of interior and exterior wall, such as, restaurant, hotel, villa, KTV, supermarket, bar, cafe, office, kitchen, toilet, Hotel lobby, Toilet room,kitchen Room,supermarket, airport, subway station etc.