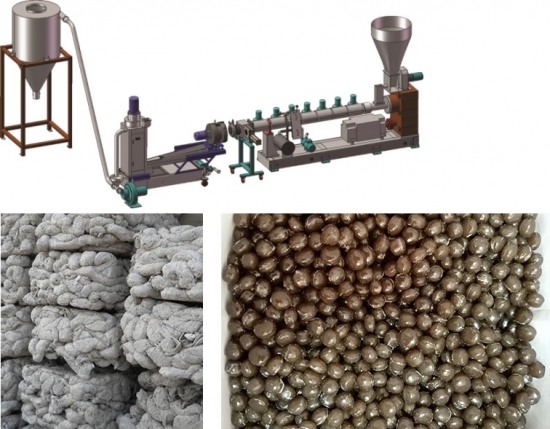 EPS ingot Pelletizing Line
PRODUCT DESCRIPTION
EPS foam pelletizer has the feature of reasonable design, high automation, advanced technology ,high efficienty and energy saving.It can directly produce pellets at normal temperature,no pollution. The pellets are bright and uniform, export to Japan and South Korea, has been widely praised by users.
The EPS ingot pelletizing line is composed by screw feeder,extruder,screen changer,water ring cutting system ,fan delivering and controlling system.
1. Feeder
Material:Stainless Steel
Silo capacity:200L
Feeding type:Screw feeding
Capacity :≥400kg/h
Feeding power:AC1.5kw
Feeding control:Inverter ABB

2.Extruder
Barrel, Screw material:38CrMoAl
Barrel configuration:Spiral slotting and forced water cooling in feed section
Screw configuration:High efficiency exhaust and mixing
Central hight:1200mm
Screw diameter:150mm
L/D=28
Barrel heating:7sets
Barrel heating power:≈48kw
Barrel heater:Ceramic heater
Heater cover:Stainless conver
Barrel fan cooling:7×180w
Screw rotation speed:90rpm
Gearbox:High efficiency hard tooth gearbox
Driving power:132kw with inverter
Driver: Direct coupling of high efficiency coupling
3.
Vacuum exhaust 1 set
Vacuum pump:3kw
High efficiency exhaust to ensure material quality
Exhaust form: vacuum water filtration
Vacuum chamber: special design
Vacuum cover: aluminum alloy
Vacuum tube: high temperature and high pressure rubber tube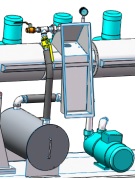 4.Screen Changer
Model: Phi 250 single plate
Filter area: circle (phi 250) mm
Under maximum pressure melt: less than 20Mpa
Filter screen: double station
Double station mobile speed: less than 2 seconds
Material: 38CrMoAl
Heating power: 16KW
2 high pressure oil pipe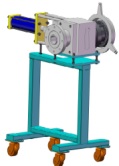 5. water ring mold
Mold material: 40Cr
Template material: 38CrMoAl
Discharge hole: 3 X 48
Heating power: 6kw
Special heating of template core
Cover material of water ring cover: aluminum alloy
6. water ring cutting system
water ring cutting system
Water ring cover material: stainless steel
Water circulation pump: 4kw
Granulating motor: 3kw
Number of cutters: 4
Grain cutting control: ABB variable frequency speed regulation
Movement of water ring: roller movement
2, tank + water tank
Water tank and water tank material: stainless steel
Water level control: automatic high water level overflow
3. Centrifuge dehydrator
Dehydrator material: stainless steel
Power of the dehydrator: 3kw
Speed: 1480rpm
Special design of dehydrated rotor and blade
Special design of dehumidification fan
Couplings: Lovejoy, USA
Bearing: SealMaster, USA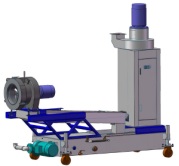 7.Fan delivery system
8. Electric controlling sytem
EPS ingot pelletizer working video