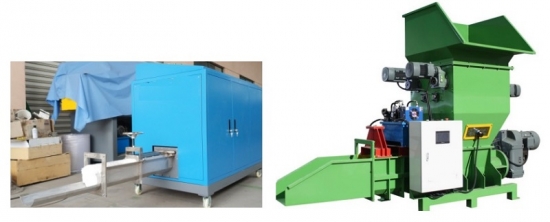 EPS compactor
PRODUCT DESCRIPTION
EPS styrofoam compactor
is mainly used for waste disposal, including: paper, EPS styrofoam(polystyrene foam), EPE and so on. The material through the mill to be ground into a powder compaction process.
Through numerous experiments on the EPS styrofoam compactor and continuous improvement, to create a superior performance. EPS styrofoam compactor is controlled unit is based on PLC automatic control system and a peripheral circuit performance is extremely reliable.
First with the crusher and the screen on this compactor to get the small size of the material, then after the material fall down into the screw, the main motor push the material forward in the screw, meanwhile the hydraulic system on the mould head close to press the EPS styrofoam material, the EPS STYROFOAM material will come out by blocks, it can reduce 30-50 times space for the material, and easy to move an delivery. All the parts of the machine we composed into one machine, save cost , power consumption, and space for the machine. The EPS styrofoam blocks can be crushed again to process to the next unit.

Most polystyrene products are currently not recycled due to the lack of incentive to invest in the compactors and logistical systems required. Due to the low density of polystyrene foam, it is not economical to collect. However, if the waste material goes through an initial compaction process, the material changes density from typically 30 kg/m3 to 330 kg/m3 and becomes a recyclable commodity of high value for producers of recycled plastic pellets.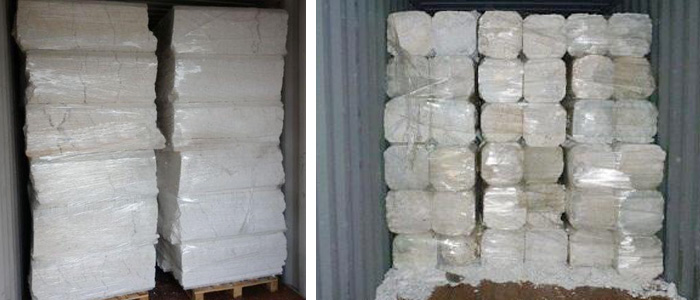 Main Parameters of the machine
Model

HS-CP-150

HS-CP-250

CF-CP-380

Capacity

50kg/h

100kg/h

150kg/h-200kgh

Screw Diameter

Φ138mm

φ290mm Q235-A

φ350mm

Input Size (mm)

612x500

1000x600

1000mmx600mm

Screw rotation speed

30rpm

36rpm

36rpm

Crusher blade

10pcs

2Sets

9+10set

4Sets 10+9+10+9sets

Crusher rotation speed

100rpm

120rpm

120rpm

Main motor

3kw

7.5 kw

11kw

Crusher motor

2.2 kw

2.2kw X 2

2.2kw X 4

Hydraulic station motor

1.5kw

1.5kw

Production size

150x150mm

250*250mm

380x380mm

Outline (mm)

1200x1000x1400

3000×1300×2100

4800x1500x2500

Weight

850kg

1400Kg

1800kg